I bought a couple of metres of this fabric about six months ago, with no particular plan in mind, other than I instantly liked it, and knew I would enjoy turning it into something to perk up my wardrobe once the colder weather hit.
Stuck for ideas, I asked the advice of
Karen
and
Winnie
- both of whom have some very inspiring hand made clothes, and have a much wider pattern repertoire than I do. They were both super speedy to get back to me, and I went for Karen's suggestion of the Kelly Skirt (a Megan Nielson pattern).
I am really pleased Karen has put me onto this new to me line of patterns. The skirt was very straightforward to make - definitely easy enough for a beginner to try. Not least helped along by the fact the pattern pieces were nice simple rectangles, so the cutting out didn't take too long! With the 150cm wide corduroy, I used well under a metre - so plenty left for other projects (watch out for some matching mummy and daughter magic/tragic action before too long!).
I am not sure at which point in the process the idea of using a jumbo ric rac trim came to me - but I am glad it did, because I think it is why I love this skirt so much! That, and the pockets. What a brilliant invention for keeping your hands warm on surprisingly cold yet sunny days.
And that is what today has been like. Maybe my favourite kind of day.
And, for the littlest girl, probably her favourite kind of day, too. After dropping her big sisters off at school, we went to the park so she could practise her new climbing skills...
Genius idea
...sampled the milk and biscuits on offer at
The Kiosk
...
This allowed a few minutes for me to pose in my new skirt (thanks to my friend Gemma for being my patient photographer on this occasion).
Still haven't worked out how to look natural!
But the ric rac - oh, the ric rac! I LOVE it. I think it will bring a smile to my face even on days when the sun is not shining.
Yum. (No doubt meant for the younger clients, but I'd like one for myself.)
"Don't tell your sisters about this, okay?"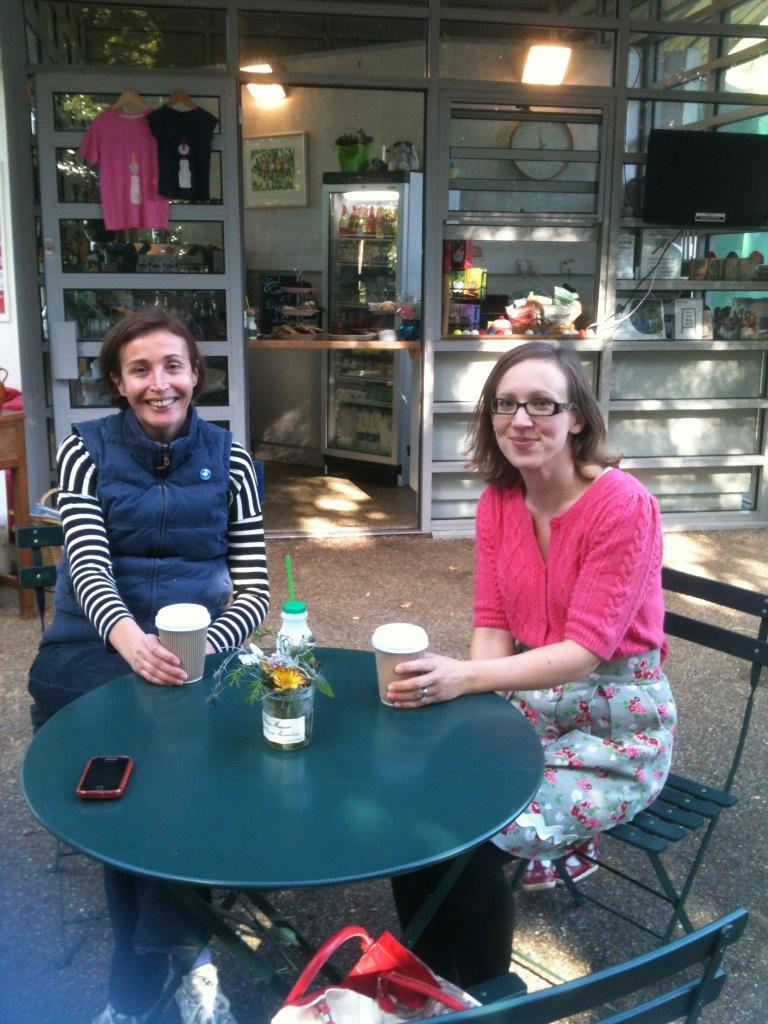 (Clearly I'll be back home to iron some shirts... soon. Honest.)
Gorgeous hand made milk and biscuit design - made by
Alice
.
"I've had what I came for (biscuits), time to go and see the ducks!"
The beautiful riverside in Bedford
Next on the making table is this.
Another Wonky Wilma Elephant in the making...
I have spent just about every spare minute I've had this week working on the pattern and instructions for the elephant toy I designed for my middle girl last Christmas.
I'm going to go for it and and see how far I can take
The Wonky Wilma Project
- my hope is to convince a couple of hundred people to buy the pattern, and help raise £1000 for
GOSH
in the run up to Christmas. I've gathered together a bunch of willing volunteers (including my Mum!) to test out what I've done so far - and I am hoping to have the pattern ready to sell next week.
The early birds amongst you can be first to catch the worm and get the pattern as soon as it's released by donating your £5
here
.
Watch this space!